Our good friends over at Slate Media Technology recently sent us a Raven MTi to check out. I'd been hybrid mixing for quite some time and transitioning to mixing in the box exclusively and the Raven seemed like it could be a nice center piece for ITB mixing, especially if the physical experience of mixing was something an engineer didn't want to lose.
System Requirements
Before we dive into my experience with the Raven, let me tell you what you're gonna need first. The Raven works on all major DAWs as well as both Windows and Mac machines. The Raven MTi itself is a 27", LED backlit IPS, 10-touch multi-touch, HD 1920×1080 display. You'll need USB 2.0, HDMI, and an iLok 2.
For Mac users, a 2.5Ghz+/i5 processor or greater, Intel HD 4000 graphics card (512MB VRAM), and 8 or more GB of RAM is required. It'll work with OS X 10.7-10.12.
For Windows users you'l need 2.3 Ghz+/i5 processor or greater, 512 VRAM or greater, and at least 8 GB of RAM. Note that the quality of the graphics card will directly effect the quality of the performance of the Raven. If your DAW machine is a beast, you'll have little worry. The Raven MTi works on Windows 8 and 10.
Unboxing
The Raven arrives well packed with all necessary cables, a base stand, and cleaning supplies. You can expect an IEC cable, DVI cable, a microfiber cloth, Revitalizer (cleaning solution), and some documentation to get you started. Plan on cleaning the surface once a week but even more depending on how much you use it (or how dirty you're hands were!).
Setting It Up
The Raven MTi is mostly plug and play and just needs a little bit of calibration to know your touching angles in order to give you accurate response. Because I was already using a Control 24 I ran into a little hiccup installing the Raven's V-Control that got worked out in mere minutes with the help of the techs at Slate.
I'm the type of person that when I get a new piece of gear or software, I want to start using it right away without reading any instructions or watching any tutorials. So, in keeping with that habit I dove right in. Unfortunately, I got ahead of myself and had to do some tutorial viewing. It's nothing tough, just aligning the slate mixer faders over your DAW faders and getting the concept of controls down.
That being said, I was already poking around in a session within minutes.
The Features
The Raven is a true multi-touch control. You can use several fingers once you've made contact and you don't need to be in the right spot on the screen.
What I mean is that I was able to grab channel 1,5,7,10, and 13 faders simultaneously by touching and sliding across the screen. That can't be done on the console with one hand. Now imagine using both hands! Did I mention 100mm virtual faders? That's great fader resolution making fine tuning very easy.
With your fingers you can do everything you can do in your DAW normally like panning, sends, or tweak plugin settings. I quickly customized the toolbar to have my preferred tools, which was as easy as dragging and dropping controls to and from the toolbar. Its the transport, editing tools, wave and track zoom, scrub, shuttle etc.
Batch Commander is a really cool perk that allows you to automate your standard procedural tasks. Amazingly it can automate up to 1,000 key commands with the touch of one single button. It also comes pre-programmed with 100 common commands and layouts. Its a real time saver. Since my reviewing the Raven MTI there's now iOS remote support.

Some Finer Points – (Personal Favorite Features)
Sliding/Swiping – Like your iPhone or other touch device you can navigate the mix and edit window simply by swiping the screen with your finger. You can also do multiple functions with a single touch and sliding like soloing multiple tracks by selecting a solo button and without lifting your finger sliding across other solo buttons dodging any you don't want soloed.
Fine Faders – If you massage tracks with automation in mere 1/2dB increments this feature is pure gold. You can adjust the fader resolution making your finger movements equate to tenths of a dB movements.
Drawing Automation – Using your finger to draw automation is fun and satisfying. If you really like the tactile feel of mixing, drawing automation combined with zoom controls makes the task far less tedious.
Batch Commander Tasks – This feature is so easy to use and can save a ton of time in your day by executing several step processes automatically. For example, if I have a "go to" vocal chain that has a De-Esser, a couple EQs, Tape Emulation, a couple of compressors, a limiter, and a multi band compressor in series on a track, by hitting one button Batch Commander goes through the entire process in front of your eyes in mere seconds. Now think about how many commands you can set up. The one thing it won't do is make me a fresh espresso.
The Verdict
The Raven MTi is a no brainer. It adds WOW factor to your studio.
At only $999 the Slate Raven MTi is a no brainer. It adds functionality, tactile satisfaction, time saving features, and WOW Factor to your commercial or home studio. It's a nice center piece to the ITB mixing workflow and is far more ergonomic than the keyboard and mouse. It's a quality innovation coupled with amazing support from the folks over at Slate Media Technology and a small investment for so much bang for your buck.
If you still need more bells and whistles and a sexier centerpiece, you should probably check out the Raven MTX that comes with Slate Control. Satin black finish, wood panels, 5,1/7.1 surround options, and analog monitoring? Sign me up!
Editor's Note: For those with a bigger budget (and a bigger room!), be sure to check out the Raven Z series. From Slate Media Technology's website:
The RAVEN Z Series of Multi-Touch Production Consoles offer a state of the art workflow center for the Elite Modern Studio. Choose from two models, the full-size Z3 or Z3C, our more compact offering. Both models feature a center 46" multi-touch panel and two 27″ multi-touch panels along with the Slate Control fully analog monitoring system. The Z3 series can be configured according to the client's needs with specific rack spaces and locations, custom colors, and much more.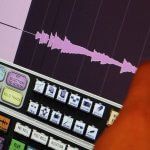 Slate Raven MTi Review
Conclusion
At only $999 the Slate Raven MTi is a no brainer. It adds functionality, tactile satisfaction, time saving features, and WOW Factor to your studio. Makes a nice center piece to the ITB mixing workflow
Pros
Bang for your buck
Batch Commander is worth the price of admission
Custom layouts
User saved preferences
Excellent Support
Cons
Not an Anti-Glare surface
MTi is not 5.1/7.1 Surround