Another holiday season is upon us!
Looking for the perfect gift for the musician, engineer, or producer in your life (or maybe you're looking for a gift for yourself)? Our holiday gift guide features some great gift ideas that are sure to bring joy and creativity on any budget.
2020 Holiday Gift Guide for Engineers & Producers Contents
Gifts Under $100
Portable Adjustable Laptop Stand
This adjustable laptop stand isn't just for DJs (although it's great for them, too!). If your studio desk is short on space, elevating your laptop with this stand frees up space so you can place your interface, outboard gear, or sound module underneath for easy access.
Mixing Secrets for the Small Studio
In this book, Sound on Sound's Mike Senior walks you through the process of mixing. from start to finish. You'll learn the basics of arrangement and editing, how to use EQ, compression, and other effects, and more.
RecordingStudio.com Hoodie
Keep warm and look good doing it with our RecordingStudio.com hoodie. Available in a variety of sizes and colors.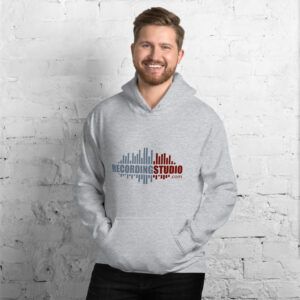 Sony MDR-7506 Closed Back Headphones
These closed-back headphones are some the most popular headphones around. It's no coincidence that you'll find Sony MDR-7506 headphones find in most studios around the world. The closed back construction does a great job and preventing sound from leaking into your microphone, making them ideal for tracking. These budget-friendly headphones offer durability and detailed sound at a great price.
Sony MDR7506 Professional Large Diaphragm Headphone
Classic Lava Lamp
Creating a vibe that encourages creativity is crucial to any studio, and nothing sets the vibe quite like the classic lava lamp! The soft glow and gently flowing "lava" (actually it's wax) has been a standard accessory in recording studios since the 60s.
Lava the Original 16.3-Inch Silver Base Lamp with Yellow Wax in Purple Liquid
Gifts Under $300
Focusrite Scarlett 2i2 3rd Gen USB Audio Interface
The Focusrite Scarlett line of audio interfaces is among the best selling audio Interfaces on the planet. The third generation of the Focusrite Scarlett 2i2 features upgraded mic pres (with Focusrite Air), 24-bit/192kHz AD/DA converters, instrument inputs, low latency, and more. This USB interface makes a great gift that any engineer or producer would love!
Focusrite Scarlett 2i2 (3rd Gen) USB Audio Interface with Pro Tools | First
Slate Digital's All Access Pass
The All Access Pass from Slate Digital is a subscription that gives you access to virtually every plugin the company has to offer, including faithful emulations of some of the most legendary vintage gear around. You also get select third party plugins, virtual instruments, sample packs, and the Slate Academy. Get access to over $5,000 in plugins for as low as $149/year.
Learn More About the Slate All Access Pass
Blue Microphones Bluebird SL Large-Diaphragm Condenser Microphone
Blue Microphones Bluebird SL Large-Diaphragm Condenser Microphone
SSL SSL2+ 2-In/4-Out USB-C Audio Interface
For decades, SSL consoles have been the centerpiece of recording studios throughout the world, and for good reason. Countless hits have been recorded or mixed on SSL desks. You'll find many plugin emulations of the SSL channel strip and mix bus compressor, but why settle for an emulation when you can have the real hardware in your home studio?
The SSL2+ is a 24-bit / 192 kHz AD/DA, 2-in/4-out USB interface that gives you that legendary SSL sound in an incredibly affordable desktop-friendly form factor. The 4K Legacy mode adds that classic SSL 4000 mojo with a push of a button.
SSL SSL2+ 2-In/4-Out USB-C Audio Interface
Recording Fundamentals – New Course at RecordingStudio.com University
Give the gift of knowledge! Recording Fundamentals provides a foundation of knowledge and skills that will have you recording better tracks & getting stellar mixes, no matter the musical genre, the size of your home studio, or your experience level. This comprehensive course is perfect for the beginner recording engineer or producer.
Learn More About Recording Fundamentals Now
Gifts Under $500
Shure SM7B Cardioid Dynamic Microphone
The Shure SM7B is a stone cold classic for a reason. This cardioid dynamic microphone is famous as a voiceover & broadcasting mic, but it also excels as a vocal mic (see Michael Jackson, Bob Dylan, Dave Grohl, RHCP, and many more). Recording real instruments? The SM7B is great on bass and guitar amplifiers, horns, and drums. This mic is a must-have for every mic locker.
Shure SM7B Cardioid Dynamic Microphone
JBL 308P MkII 8-Inch 2-Way Studio Monitors
The JBL 308P MkII offers legendary JBL performance at a price that makes them a great near- and midfield solution for any engineer or producer. The 308P MkII offers stunning detail, precise imaging, a wide sweet spot and impressive dynamic range that provide outstanding performance and detailed critical listening.
JBL Professional Studio Monitor, 8-Inch (308PMKII)
Steven Slate Audio VSX Modeling Headphones
Slate makes another appearance on our list. That's right, Slate makes more than software! A brand new release, the Slate VSX system features a set of xxx headphones coupled with the VSX software. This revolutionary system allows you to create your music in precise models of pro mixing studios, mastering rooms, car stereos, nightclubs, audiophile mix rooms, boomboxes, and more from the comfort of your home studio. It might sound like hyperbole, but if you are mixing in an imperfect home studio (and let's be honest, most of us are), then the Slate VSX will revolutionize the way you mix.
Steven Slate Audio VSX Modeling Headphones - Founder's Edition Closed-back Studio Headphones with Modeling Plug-in
All-Inclusive Bundles for Home Recording Engineers & Producers
Next up we have some great all-inclusive bundles perfect for aspiring engineers and producers. These packages will help anyone get up and running right away!
Beginner Production Package – Get Tracking and Mixing for Under $600.00
Focusrite Scarlett 2i2 3rd Gen
This USB 2.0 Audio Interface is perfect for the beginner to intermediate audio production studio. It comes with 2-in/2-out, 24-bit/192kHz, with 2 Mic/Line/Instrument Inputs, Switchable Air Mode, USB Bus Power, and Bundled Software – Mac/Win/iPad Pro. Monitor with headphones through the front panel stereo headphone output or connect monitors to the back panel left and right line outputs.
Rode NT1-A Large Diaphragm Condenser Mic
The all-purpose microphone solution for the beginner-intermediate production studio. Great for recording vocals, acoustic guitars and percussion.
Sennheiser HD280 Pro Closed Back Headphones
A must-have for most pro and home studios. Widely used for tracking sessions as they provide powerful, balanced output for the most challenging listening environments.
Beginner Production Package
Was $679.84
Buy together now for
$571.18
You Save $108.66 (16%)
Electronic Music Package – A Great Way to Start Producing Electronic Music in One Package
Behringer U-Phoria UMC404HD USB Audio Interface
24-bit/192kHz, 4-in/4-out USB 2.0 Audio Interface with 4 MIDAS Preamps, Phantom Power, Inserts, and MIDI I/O. Perfect for tracking electronic music direct from your synth's audio outputs or through the MIDI I/O.
Novation Launchkey 37 Mk3 37-key Keyboard Controller
37-note USB MIDI Keyboard Controller with Synth-action Keys, 8 Knobs, 16 Pads, Dedicated Transport Controls, and Bundled Software. Play your virtual instruments and sample your favorite sounds directly to the 16 sample pads. Great for layering rhythms and key tracks.
Native Instruments Komplete 13 Select Software Production Suite
Plug-in Library with 16 Virtual Instruments/Effects, 7,000 Preset Sounds, 5 Expansions, and 40 GB of Content – 64-bit Mac/PC Standalone, VST, AU, AAX. High quality sounds for every electronic music production studio.
Sennheiser HD280 Pro Closed Back Headphones
A must have for most pro and home studios. Widely used for tracking sessions as they provide powerful, balanced output for the most challenging listening environments.
Electronic Music Package
Was $683.99
Buy together now for
$641.98
You Save $42.01 (6%)
Stocking Stuffers – Good Things Come in Small Packages
Finally, no gift guide would be complete without a collection of smaller items that are perfect for stuffing stockings, gift exchanges, or even a little gift for yourself!
Snark SN5X Clip-On Tuner
Get in tune quickly and easily with a Snark Tuner. This handy tuner clips on to whatever instrument you need to tune, is easy to carry around, and brightly lit so you can stay in tune in even the darkest studio.
Snark SN5X Clip-On Tuner for Guitar, Bass & Violin (Current Model)
RecordingStudio.com Coffee Mug
No session is complete without a piping hot cup of coffee or tea. Our ceramic mug is sure to become a favorite fixture in your control room!
Stylophone Pocket Synth
The original Stylophone pocket synthesizer was invented in 1967 by Brian Jarvis and sold from 1968 to 1975 as Stylophone, the original pocket electronic organ. Today's Stylophone reissue was introduced by the inventor's son, Ben Jarvis, and retains all of the original features but with up-to-date technology. Used by artists such as David Bowie, Queen, Kraftwerk, Vangelis, and many more. A little piece of musical history that fits nicely into a stocking!
Stylophone Retro Pocket Synth
Samsung T5 1TB Solid State USB Drive
As engineers and producers, we spend endless hours tracking, editing, and mixing our songs, not stopping until our mixes sound right. Over time, our projects build up, as does the space required to store all that data. And if our hard drive fails, what then? Nobody wants to lose hours of irreplaceable work. That's why this 1TB solid state USB drive from Samsung makes a great gift for any musician, engineer, or producer.
SAMSUNG T5 Portable SSD 1TB - Up to 540MB/s - USB 3.1 External Solid State Drive, Black (MU-PA1T0B/AM)
Contributing author Michael Vealey is a Buffalo, NY based Engineer/Producer/Mixer/Musician. For more about Michael, visit his SoundCloud & Facebook pages.