We often get emails and messages from aspiring engineers and producers asking for advice on recording and mixing, treating their home studios, or what gear they should buy next.
While there is a wealth of information on the web related to recording, production, and home studio construction, the fact is that a lot of it questionable at best. If you're a new engineer or producer, you have probably gone online to look up some technique, tip, or trick, only to end up lost in a sea of sketchy YouTube videos even more confused than when you started.
That is why we have made it our mission to be the #1 trusted source of information for all things related to audio production. RecordingStudio.com strives to be your go-to for the information you need to get better sounding recordings.
And so, we are super excited to announce that Recording Fundamentals, the first course released on our RecordingStudio.com University platform, will soon be ready for the public! And, for a limited time, the doors are open for Early Bird Access!
What Exactly is Recording Fundamentals?
Recording Fundamentals is a comprehensive online course and community where pro engineers and producers share their years of experience and knowledge with beginners, to help rookie recording engineers & producers to learn the fundamentals of audio production and get better sounding mixes.
We are so excited to launch Recording Fundamentals because there is a NEED in this world for new engineers and producers to master the basics of audio production and learn how to get radio-ready mixes, every time. We want to help you get there!
What's Inside the Course
Recording Fundamentals will be a course delivered online, using a mix of video, written content, and live webinar sessions.
The course is designed to give a beginning engineer a solid grasp of the fundamentals that every engineer should know. It's set up in a very methodical progression.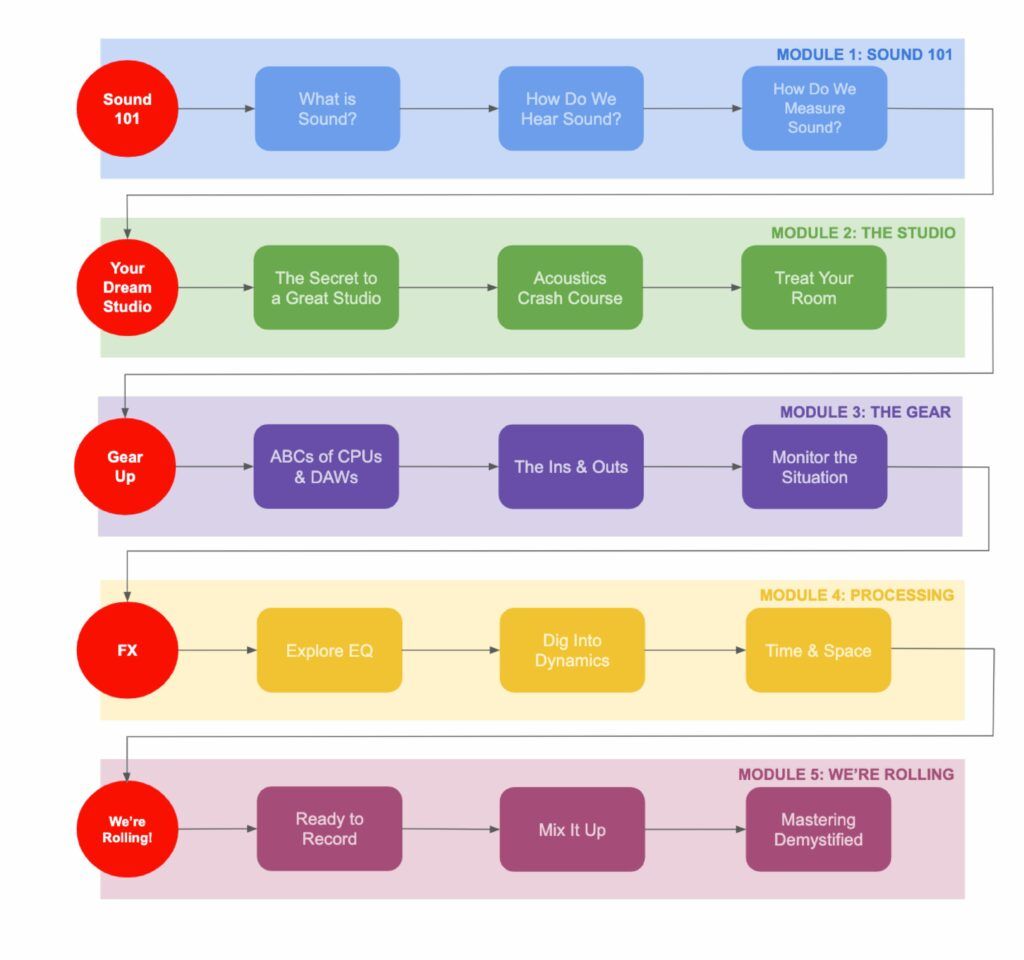 We start with "Sound 101." In this module we examine the properties of sound, how sound behaves in a space (i.e. acoustics), how we perceive sound, and how we measure sound.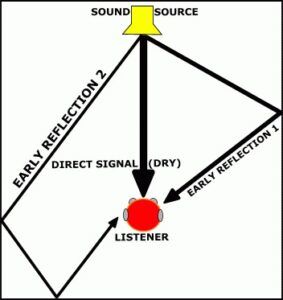 Next up we dive a bit deeper into acoustics, and look at how you can build a personal studio with good acoustic properties (or address acoustic problems in your existing studio).
Next we cover all the gear you'll find in a studio, their function, what you really need, what's optional, and how you can best utilize the hardware & software that may already own.
The next module covers signal processing. We review dynamics processing (compression, limiting, expansion, gating), equalization, and time-based processing (reverb, delay, chorus, flanging, etc.). We dive deep into how this processing works and how you can apply them to your recording and mixing.
Once we've covered all this, we get into the recording process: microphone selection and technique, workflow best practices, gain structure, editing tracks, and the mix process.
Is Recording Fundamentals Right for You?
We've designed this course to be a very comprehensive introduction to the world of audio production. It's perfect for beginner or relatively new engineers. If you're already a pro engineer, then it's most likely not for you.
The course will be taught by a team of engineers & producers. All have been professionals in their field for years, if not decades. Many of our team are also professional educators who have years of experience teaching this material in a classroom setting.
More about RecordingStudio.com University
Recording Fundamentals is just the first in a growing collection of courses in our newly launched RecordingStudio.com University platform. The next course we will launch will be the sequel to this course: Advanced Recording Techniques. Many other courses will follow, covering a wide range of subjects: mixing, mastering, DAW-specific courses, process-specific courses, master classes, live streaming recording sessions, and more.
Get Early Bird Access!
The Recording Fundamentals will be officially released soon, but for a limited time you can get Early BIrd access. When you sign up now during this limited time pre launch, not only will you save on your registration, but you'll also gain access to exclusive early bird bonuses.
If you want to learn how to get professional sounding recordings in your home studio, no matter your budget or experience level, then be sure to register today before the Early Bird seats are sold out.